EVER WONDER HOW AN AXIS FLIGHT SIMULATOR GETS BUILT?
---
With skill and attention to detail, that's how! We put our all into it, and the results speak for themselves. Take a look at the different things we do in the various departments, and see where you fit in.
GO PLACES WITH US
---
Are you looking for someplace cool to work? No, seriously? Then take a look at us. 
We're well established but haven't been around forever, so you'll be joining a team that's young and flexible. We develop and build advanced, high-precision flight simulators that are used worldwide, in Europe, the Americas, Asia, and the occasional island realm. We're looking for people who are focused, enthusiastic, like to travel, enjoy digging into complex matters, and are inventive. Oh, and, teamwork is a big thing here.
What do we provide? Commensurate salary, great benefits, an enjoyable working environment, interesting international focus, and lots of chances to stretch out and show what you can do in an industry that is quite literally going places.
YOU'LL LIKE IT HERE!
---
We want you to stay healthy and enjoy what you do, so at our Austrian HQ we have some goodies and freebies you might like. Free tea and coffee, free fruit, and a € 2.00 / day lunch subsidy. (Not content with that, we also have a staffer cook for everyone once a month. Yum!) We're a fun-loving bunch and do seasonal team events, and we raise a glass to celebrate each successful project conclusion.
Of course you can also work in your home office 1-2 days a week if you like. When you come in to the office there's free parking. Public transportation? Lots of it to and from nearby Graz, which by the way is a really great place to live.
---
Inter­national
---
Food
Subsidy
---
Free
Coffee & Tea
---
Free
Fruit
---
Home­ Office Option
---
Nearby
Train Station
---
Free
Parking
---
Team
Events
WHAT WE DO WHERE
---
Ever wonder how an AXIS flight simulator gets built? With skill and attention to detail, that's how! We put our all into it, and the results speak for themselves.
Take a look at the different things we do in the various departments, and see where you fit in.
Aviation Engineering 
More details

Modelling and representation of physical aircraft systems, such as electrics, hydraulics and navigation systems
Flight campaign tests to gather data for modelling, including sensor selection, test manoeuvre and procedure definition
Engine, aerodynamics, flight control and ground reaction modelling
Coordinating with pilots, maintenance providers and other vendors
Assistance in the final acceptance process with customers, pilots and regulatory agencies
Finance
More details

Financial reporting to management
Bookkeeping, balancing and cost accounting
Monthly and annual reports
Assistance with the annual audit
Controlling of all incoming and outgoing monies
Hardware Engineering
More details

Development and construction of mechanical, electrical and electronic simulator components
Overall system concept development (design, safety, integration in customer facilities)
Design and development of generic simulator groups (baseframe, outer shell, cabin interiors)
Development of cockpit replicas (integration of original cockpit components)
Development of instrument replicas (integration and conversion of original aircraft instruments, construction of fully functional and precise reproductions)
Cockpit measurements (laser scans, examination of original instrumentation)
Product documentation
SPS programming
System commissioning tests
System installation at the customer site
Customer Support assistance (2nd level support)
Office
More details

General administration (post, e-mail correspondence, office supply ordering, etc.)
Telephone exchange
Assisting the COO
Booking travel
Company car administration
Company phone administration
Company credit card administration
Assisting visitors (customers, vendors, partners)
Responsible for central document administration
Support and preparation for FICO (e.g. invoice capture, cash book, expense settlement, etc.)
Supporting services for HR (e.g. organizing events, entering absences, etc.)
Building maintenance
Staff well-being in the form of coffee, milk, fruit etc.
Software Engineering

More details

Maintenance and further refinement of the simulation framework, DevOps etc.
Selection and configuration of simulator IT components
Development of interfaces to OEM avionics systems
Simulation of OEM avionics components
Maintenance and further refinement of panel microcontroller firmware
Design and simulation of the audio/sound system
Maintenance and further refinement of the instructor station
Development of interfaces to visual systems
Project Manage­ment

More details

Central contact for external and internal partners around the implementation of customer requirements, from contract closing to successful release and qualification
Clearly defining and assigning responsibilities for project segments, and monitoring target achievement
Making sure that the overriding targets and milestones are known
Ensuring clear internal communication
Identifying risks, and reacting early and appropriately
Planning and clarifying customer requirements
Coordination and logistics
Preparing acceptance and performance documentation
Production

More details

Assembly of entire flight simulators, including in-house fabrication of most parts
Machining and coating parts
Instrument panel building to exacting detail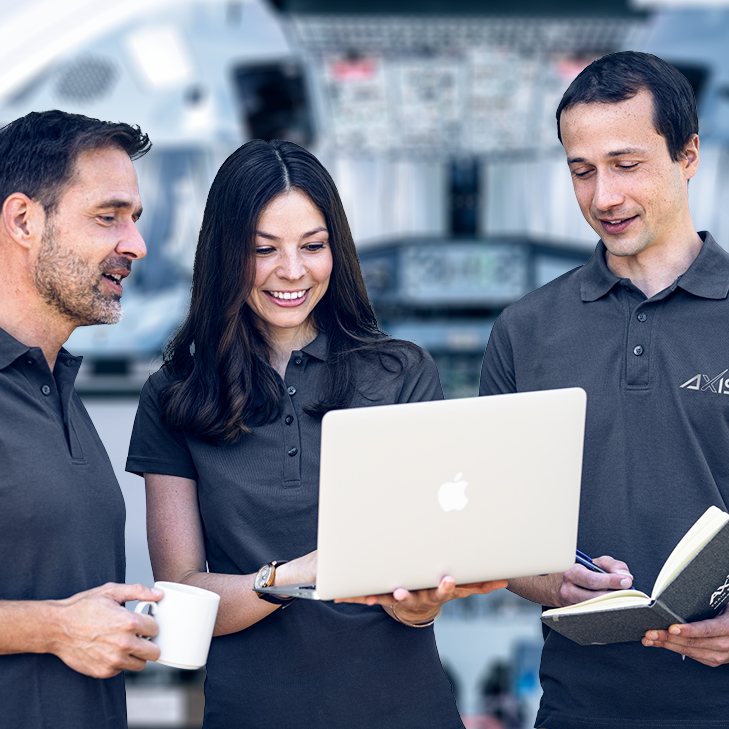 Support After-Sales

More details

Primary contact for the customer once a project has been completed
Handling of warranty cases, and coordinating and keeping track of open issues
Making proposals and coordinating the execution when customers want changes or need additional services
Where we can, we deal with issues directly without calling in other departments; otherwise we coordinate everything until the matter has been resolved
On-site maintenance planning and coordination with all involved so that visits go smoothly
Training and on-site customer assistance of every kind
MAKING OF
---
Point and click, right? Well, no, not really.
A professional-level photoshoot is more involved than that, but the results are worth it. See what goes into getting great product shots.